With supermarket shelves emptying fast and many of us engaging in social distancing, our usual eating plans may have to take a backseat for a little while. But this doesn't mean that you can't still eat healthily and keep your body nourished.
You might find yourself needing to eat more carbs than you usually would, for example, and you may find yourself relying on more tinned and frozen foods than fresh.
You'll need to get creative with your meals, and you may need to stretch your ingredients that little bit further, so it's going to be especially important to ensure you're getting the right vitamins to help keep your body as healthy as possible.
How to get creative with your kitchen essentials
These tips could help your store cupboard ingredients to go a little bit further over the next few weeks and months:
Keep your pantry stocked with high-protein foods to keep you full, including beans, lentils, chia seeds, canned fish, quinoa, and nuts
Use protein powder to add extra filling power and nutrition to your meals
Buy fresh fruit and veg when you can, and freeze it until you need it to prevent it from going to waste
Learn to compromise – if you can't buy tinned tuna or salmon, look for fish paste to replicate a similar flavour in a pasta dish
If pasta shortages continue, consider making your own using eggs and flour, or cut lasagne sheets into strips
Draw on your collection of herbs, spices and stock cubes to keep your meals as full of flavour as possible

Nourishing store cupboard recipe ideas
Our recipes archive is full of handy store cupboard recipes, including protein pancakes and peanut butter protein breakfast bars, which are both filling choices to slowly release energy throughout the morning, helping you to feel fuller for longer.
Oats are cheap and filling, making them a handy go-to ingredient in the current climate, while other store cupboard staples such as pasta, rice and tinned goods are also set to become a more regular feature of our diets.
With this in mind, here are a few of our favourite store cupboard dinner recipes:
Store cupboard pesto pasta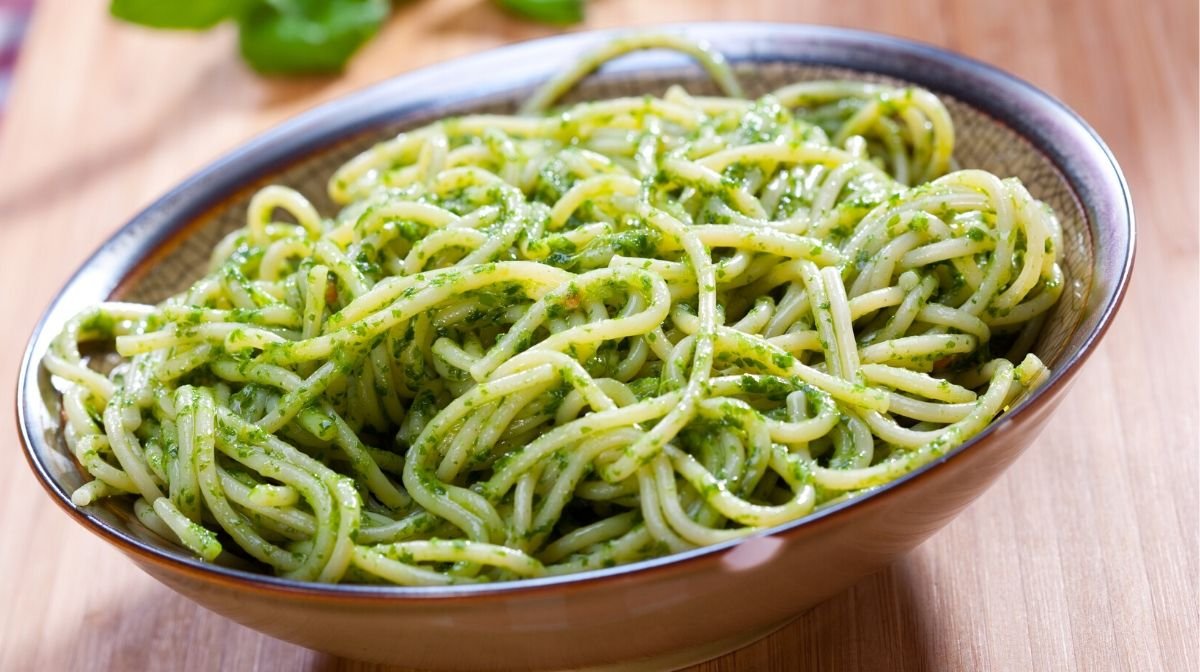 We all need a bit of comfort in these uncertain times, and few foods are more comforting than a warm bowl of pasta. If you're rationing your supplies of meat and tinned tomatoes, use pesto as a sauce instead – if you can't get your hands on a jar, have a go at making your own.
Ingredients:
400g pasta
50g fresh or dried basil
100g cheese
4tbsp olive oil
1 clove of garlic
150g walnut pieces
Method:
Put the pasta on the hob to boil in a pan of water, as per the packet instructions
Meanwhile, in a food processor, blend together the walnuts, garlic, olive oil, basil and most of the cheese until combined in a pesto sauce
When the pasta has boiled, drain any excess water from the pan and stir through the pesto
Top with any remaining cheese and enjoy
Quick store cupboard curry
If you've got curry paste, curry powder or a selection of spices in your cupboard, you can easily rustle up a tasty, nutritious and filling curry to feed the whole family – just remember to go easy on the heat if you're cooking for little ones. This recipe makes a vegetarian chickpea curry featuring plenty of veg, but you could mix up the recipe by adding chicken or a different type of pulse such as lentils.
Ingredients:
400g tinned chickpeas
1 tin chopped tomatoes or 1 carton of passata
2tbsp curry powder or curry paste (alternatively, use 1tsp cumin, 1tsp cinnamon, 1tsp ginger, 1sp coriander, 1tsp cardamom to make your own curry powder blend)
2 garlic cloves, finely chopped
140g frozen onion, or 1 diced onion
200g tinned vegetables, such as peas, sweetcorn or mixed veg
1tbsp olive oil
Method:
Fry the onion and garlic in the olive oil for 5 minutes or until softened
Add the curry powder or paste and fry for another minute or two
Pour the tomatoes and drained chickpeas into the pan and leave to simmer for 15 minutes
Add the tinned vegetables and simmer for a further 5 minutes
Serve with rice, tinned potatoes or with a homemade flatbread
Store cupboard soup
Soup is another great option for batch-cooking that can be made relatively cheaply with just a few ingredients. If you don't have a blender, just leave the ingredients in chunks for an extra hearty meal.
Ingredients:
1 tin of chopped tomatoes
2 tins of mixed vegetables
1 tin of kidney beans
1 onion, finely chopped
1tbsp olive oil
Herbs and spices (use your favourites to add a comforting flavour)
Method:
Fry the onion in the olive oil for around 5 minutes or until softened
Drain the kidney beans, and add these along with the rest of the ingredients to the pan and simmer for around 20 minutes
If you have a blender, use it to make the mixture smooth, adding a little bit of water if it's too thick to loosen it slightly. If the soup has been off the heat for a while by the time you're finished, heat it back up until it's ready to serve
If you don't have a blender, simply transfer to a bowl and tuck in. Stale bread can be toasted and turned into makeshift croutons if you fancy something extra
As well as eating well, it's also important to keep yourself active, even if you are unable to leave the house. Check out our tips for keeping your mind and body active at home: