The fitness influencers that kept us active during the 2020 lockdowns
2020 was officially the year of working out at home, with searches for 'home workout'
totalling a massive 70,000. With gyms closed and outdoor exercise allowances limited to 1
hour a day, people needed to find creative ways to keep themselves fit and healthy, both in
mind and body, to tackle everything that 2020 threw at us.
But which fitness influencers and workouts really got us through the year? We've analysed a
wide range of fitness influencers on Youtube to see who we watched and subscribed to the
most throughout 2020 and which type of workouts got us through the year.
The World's Favourite Fitness Influencers
The UK went crazy for Joe Wicks' daily morning workouts for kids and seniors alike, with
routines perfect for all ability levels and special daily routines to substitute in-person P.E
lessons. Despite all of the hype though, Joe only appears 10th on our list as other
influencers from a variety of exercise backgrounds (there are 5 different types of workout
featured in the top 10 including dance fitness and pilates!) beat him to higher spots. Check
out the top 3 below!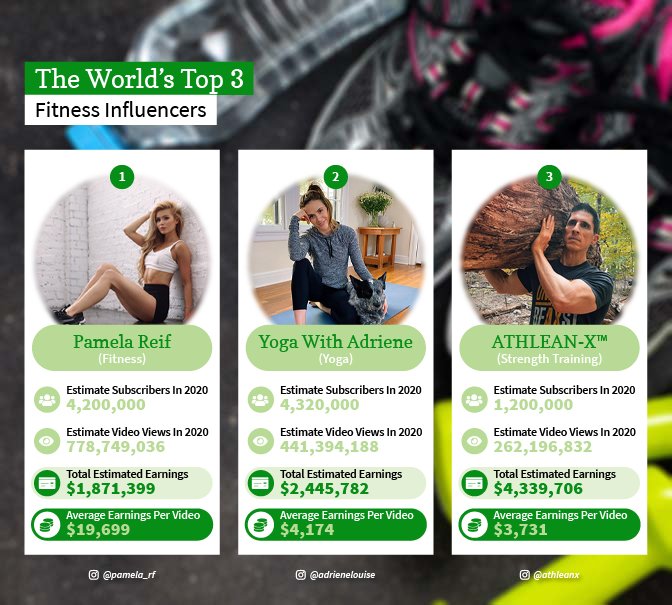 1. Pamela Reif – Fitness
Estimate Subscribers In 2020: 4,200,000
Estimate Video Views In 2020: 778,749,036
Total Estimated Earnings ($): $1,871,399
Average Earnings Per Video ($): $19,699
Pamela Reif is a German-born fitness model and social media star renowned for sharing
simple to follow workouts. The 24-year old continued to keep fans entertained through 2020,
regularly posting easy to follow videos on all manner of simple fitness exercises from cardio
to booty workouts. From these workouts, Pamela could be earning an incredible $19,699 per
video!
2. Yoga With Adriene – Yoga
Estimate Subscribers In 2020: 4,320,000
Estimate Video Views In 2020: 441,394,188
Total Estimated Earnings ($): $2,445,782
Average Earnings Per Video ($): $4,174
Adriene Mishler is an international yoga teacher, actress, writer, and entrepreneur who is on
a mission to make tools for mental, emotional, and physical health accessible for all.
Throughout 2020, her videos received 441,394,188 views, with her average earnings per
video equalling $4,174.
3. ATHLEAN-X™ – Strength Training
Estimate Subscribers In 2020: 1,200,000
Estimate Video Views In 2020: 262,196,832
Total Estimated Earnings ($): $4,339,706
Average Earnings Per Video ($): $3,731
Run by physical therapist and strength coach Jeff Cavaliere, the ATHLEAN-X YouTube
channel has free workouts, nutrition and training advice to get you on your way to a healthy,
leaner, more muscular and athletic body by training like an athlete. With a focus on
bodybuilding and muscle improvements, ATHLEAN-X could earn on average $3,731 per
video.
Check out the full list of fitness influencers below to see where your favourite comes!

Workouts for every mood that got us through lockdown 2020
We also analysed the search volume from YouTube searches for different types of workouts to see which exercise people were drawn to the most throughout the lockdowns. Interestingly, the top three workouts seem to show the different moods we all went through during the time.
Taking the top spot was Zumba with nearly 16 million searches. Zumba mixes low-intensity and high-intensity moves for an interval-style, calorie-burning dance fitness-party. Since nightclubs and parties were cancelled for the majority of last year, Zumba is a great way to get into the party spirit while still getting your daily dose of exercise in! In second came yoga, prompting people to get in touch with their mind and body, allowing them to focus on their breath and take some time to calm themselves during an increasingly stressful time. Finally, the third most search for exercise was boxing with over 4.5 million searches, suggesting that people wanted a positive way to release their frustrations and have a more active exercise routine.
Discover the full list of your favourite lockdown exercises below!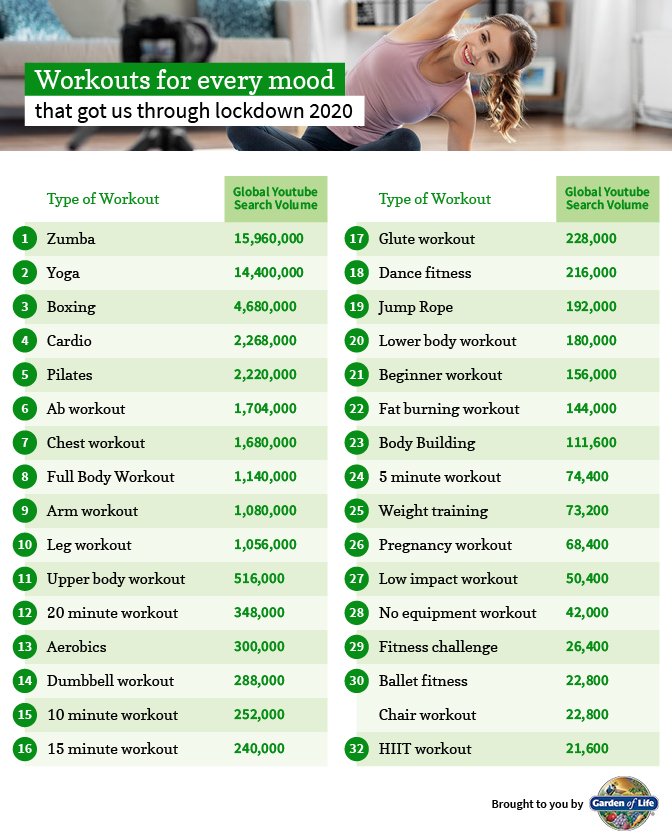 Methodology
We created a list of fitness influencers from around the world from various lists and articles, before condescending this down to the top 130 earners on YouTube. We used Social Blade to calculate the yearly estimates for video views and subscribers, and current total subscribers and views.
Earnings were calculated using the YouTube Money Calculators at Influencer Marketing Hub, which take into account both the number of subscribers/followers, as well as engagement levels and average views.
To calculate the search volume from YouTube searches for different types of workouts we used the Keyword Explorer by Ahrefs.
All subscribers, views and estimated earnings were correct as of 21st January 2021 but are subject to change.