Autumn is finally here! The leaves are falling, the weather is getting colder and most importantly, it's pumpkin season. 
Whether a roasted addition to a winter salad or blitzed into a warming soup, did you know that there are many health and nutritional benefits of pumpkins within our diet? Including their seeds 
We've put together everything you need to know about this nutritious snack, so you can discover the many benefits of eating pumpkin seeds. 
What are Pumpkin Seeds?
Pumpkin seeds are edible flat pips that you find when spooning out the flesh of the pumpkin.  
Once rinsed, you can either consume as they come or roast with seasoning for additional flavour. 
You can enjoy them at any point of the day as a delicious snack! 
What's the Nutritional Value of Pumpkin Seeds? 
Pumpkin seeds are a nourishing snack, that can help provide your diet with a range of nutrients. For example, a 30g serving contains approximately: 
7.3g Protein 

 

2.1g Fibre 

 

81mg Magnesium 

 

246mg Potassium 

 

2mg Zinc

 

3mg Iron

 
What Are Pumpkin Seeds Good For?
There are many benefits of eating pumpkin seeds and adding them to your diet can help support your health and wellbeing. Discover more about pumpkin seeds benefits below: 
Benefits of Pumpkin Seeds
1. High in Anti-Inflammatories  
Pumpkin seeds are high in antioxidants. Snacking on pumpkin seeds may help to shield your body from any external stress factors and free radicals. These include protecting you against UV rays, air pollution and industrial chemicals.  
2. Good For the Heart  
Fats are often associated as being bad for the body. However, a small amount of fat is essential to living a healthy balanced diet.  
Pumpkin seeds are a great source of unsaturated fat which is the preferred fat type to have in your body. It has many benefits including lowering your cholesterol and decreasing the chances of cardiovascular diseases thanks to the ALA (alpha-linolenic acid) content in them. 
3. High in Magnesium  
As you can see in the nutritional information above, pumpkin seeds are very rich in magnesium. 
Magnesium alone provides you with such a range of health benefits for your body such as:  
Contributing to normal muscle function [1]

 

Contributing to reducing tiredness and fatigue [2]
Explore the health benefits of magnesium.
4. High in Fibre 
Pumpkins are also rich in fibre, which is crucial for a healthy digestive system.  
Pumpkin Seed Recipes
If you're looking for a new tasty way to incorporate pumpkin seeds into your diet, try roasting them with this easy recipe.  
Ingredients
250g pumpkin seeds

 

1 tsp olive oil

 

1 tsp curry powder

 

¼ tsp salt

 

1 tsp reduced salt soy sauce

 

1 tsp agave syrup

 

Pinch paprika 

 
Method
Preheat oven to 350°F / 180°C.

Wash the seeds and remove any remaining pumpkin flesh. 

Pop the seeds in a bowl and mix all the other ingredients together

,

so the seeds are all lightly covered. 

Scatter the seeds onto a tray with a baking sheet. 

Cook for 20 minutes. Then allow to cool.

Once cooled, enjoy or store in a container for up to 3 weeks.
Discover more pumpkin recipes here: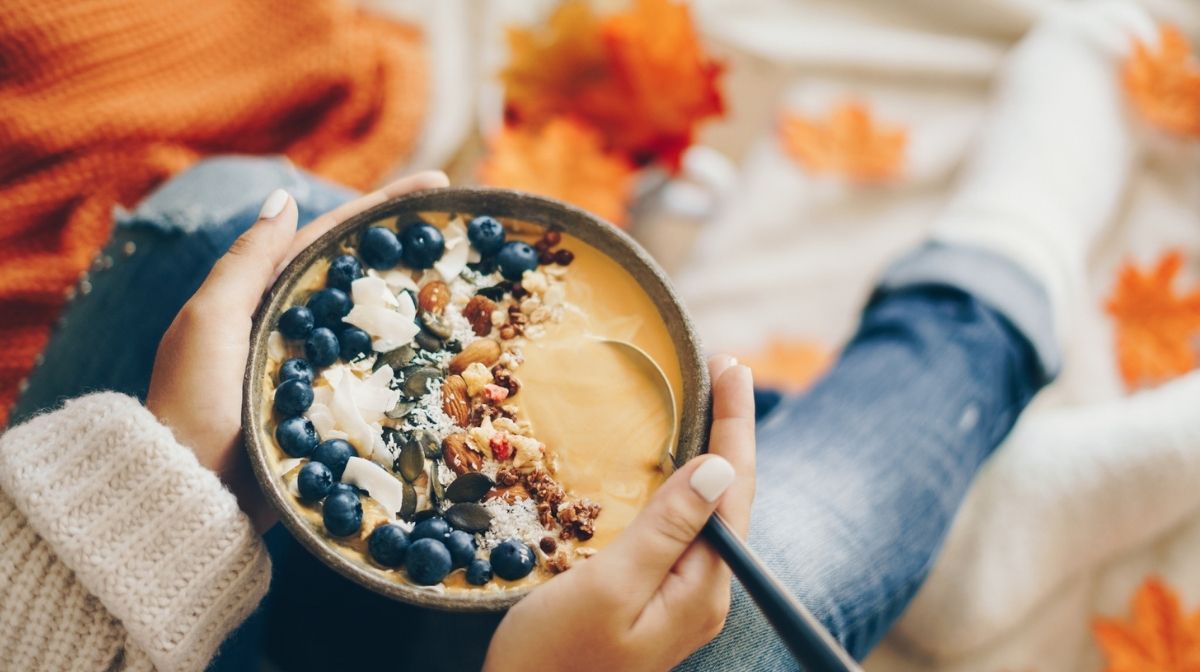 Discover how to make pumpkin spice mix and how to use it in your favourite recipes.
[1] Magnesium contributes to normal muscle function [2] Magnesium contributes to a reduction of tiredness and fatigue