We've all experienced significant changes to our daily lifestyle in recent weeks, with many of us living in lockdown or working from home across the UK.
Everyone is trying to adapt to an ever-changing "new normal". However, the key principles of good health have not changed at all; eat healthy food, move or exercise daily, get adequate sleep, avoid stress, and make time for fun and relaxation. But all of this can be easier said than done under present circumstances.
Of course, healthy eating has always been important, but now there's even more reason to keep your body in peak health to help fight off any possible immune challenges.
For most people, and especially families, the key question is how do we manage our health while staying at home and when pretty much everything apart from supermarkets is closed?
Key tips for healthy eating during lockdown
Plan your meals ahead
Ideally, try and plan your meals for two weeks at a time, factoring in three meals a day and optional snacks. This may seem like a challenge, but it will save you a lot of time and worry in the long run – you can create your food shopping list from this, you'll only need to buy food once every two weeks, and you'll have peace of mind that you've got food on hand for the next fortnight.
You can involve the family, too. Sit around the table and discuss everyone's favourite food and dishes. Ask the kids if they'd like to help you cook or make a dish themselves? This is a great opportunity to spend time with the kids, school them on nutrition and make some fun dishes together.
Find a 'new-normal' eating schedule
Being stuck in the house all day can lead to grazing and overeating or snacking on foods that aren't going to supply you with nutrients you need. Developing a schedule for your meals and snacks can help; it's easier to delay the urge to eat from boredom or anxiety when you know you've got a snack planned in 45 minutes.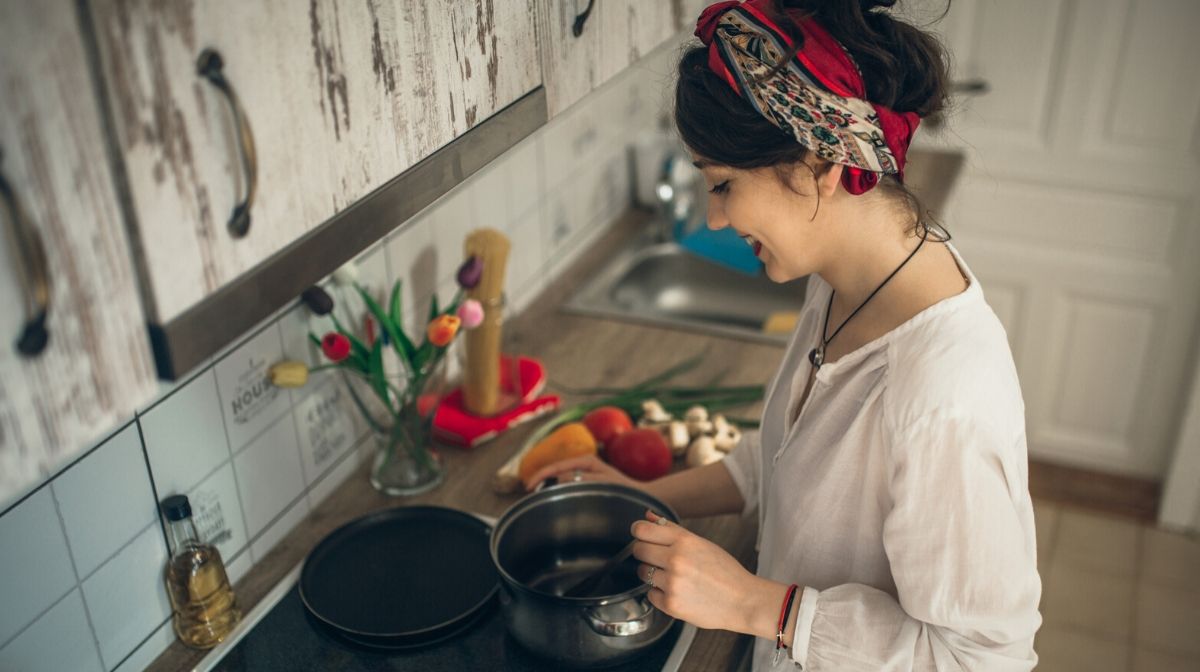 Keep it simple and practical
You're not running a 5-star hotel! Start with the main meals and just fill your menu chart with healthy meals that you enjoy. It doesn't need to be complicated. For example, make Monday chilli night, Tuesday salmon night and so on, and pair each main with sides; perhaps a small serving of starch such as a sweet potato with two servings of vegetables, or just a large salad and veggies.
Fill up on protein
Include protein at each meal; protein is essential for immune health and will also keep your blood sugar more evenly balanced, helping you to stay satisfied and prevent cravings and frequent snacking. Remember, plant protein is a good source of protein, so try to include some healthy vegetarian meals too.