According to our 2020 survey, we found that 2.76% of Brits follow a vegan diet, with 7% following a vegetarian diet and 4% following a pescatarian diet – and more and more people making the switch every day.
With the increasing surge in people taking up a vegan diet, supermarkets have become more creative in the vegan meal options they make available in their own brand ranges to ensure people who are on a vegan diet have an equally varied and delicious selection of food as those who do not follow a vegan diet.
But which supermarkets offer the best meal options for vegans?
We've taken a look at the own-brand meal options and vegan alternatives of nine of the biggest supermarkets in the UK. By looking at factors such as the cost of vegan alternatives, and the range of different products available, we've found the leading brands who are offering the best food options for vegans.
Which supermarket has the biggest range of vegan meal options available? Of the nine supermarkets we analysed, Tesco had the largest range of own-brand vegan options across all food categories with a total of 76 options, the majority making up ready meals and pizzas for a quick midweek dinner. Asda takes the second spot (72 vegan alternatives), with luxury grocery giant Waitrose taking third place (60 vegan alternative options, with 34 of them being from the ready meal and pizza category!). While both support an impressive range of meat alternative products, Asda is the industry leader for their range of dairy alternative products.
If you're simply looking for a wide selection of meat-free alternatives, Asda and Morrisons come out on top with 18 and 17 individual meat alternative products respectively. For quick food on the go, Tesco has the greatest variety with a whooping 12 food-to-go products to choose from.
Check out the table below to see the full breakdown of each supermarket's own-brand vegan offerings…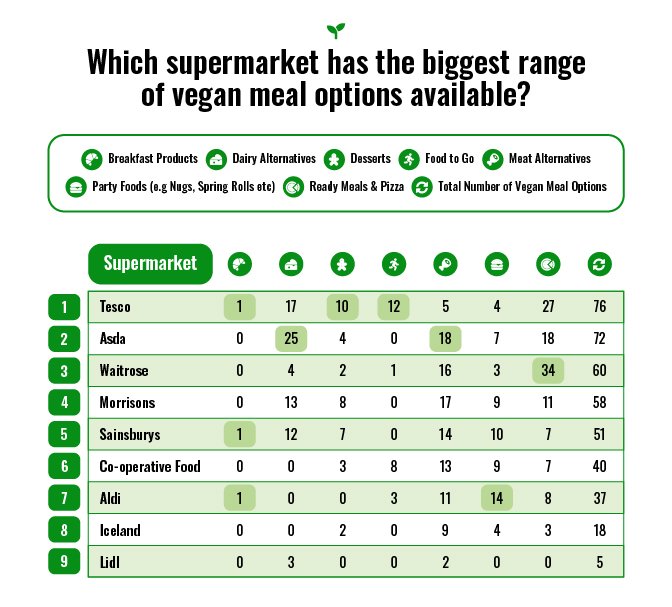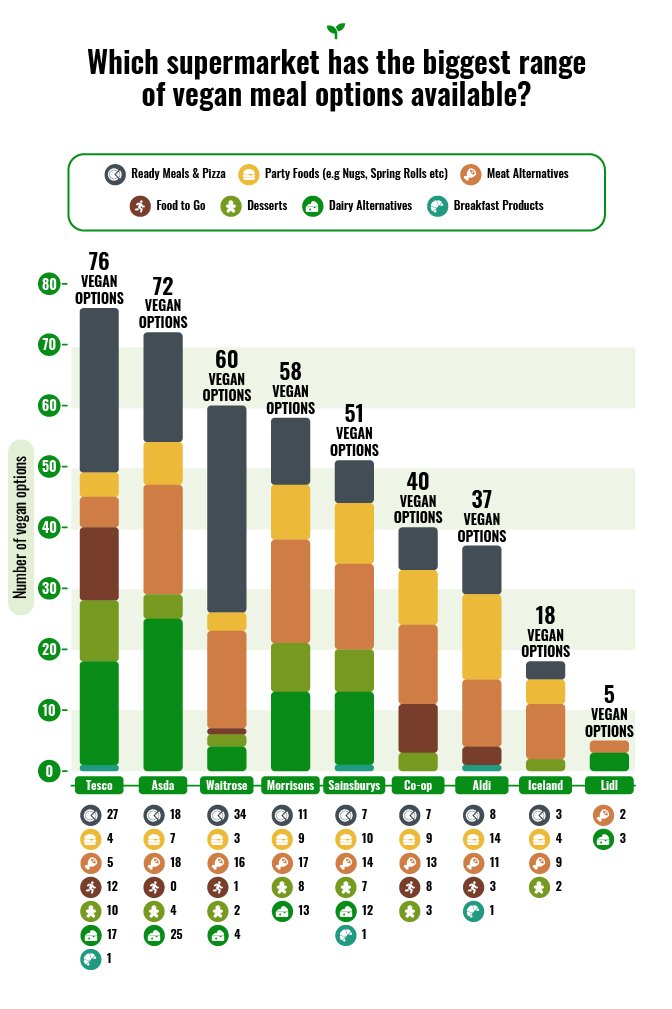 Best value vegan alternative options
Best value vegan alternative options Taking a selection of popular everyday products, we compared the price of these products across all supermarkets to see where stocks the best value vegan alternative options in the UK.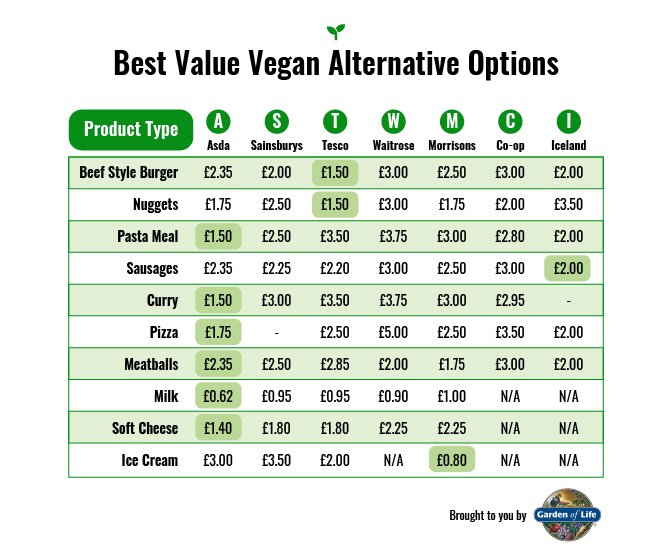 If you're looking for a delicious sweet treat to get you through the winter months, Morrisons V Taste Free From Vanilla Ice Cream is your cheapest option at 80p per tub, making it at least 3 times cheaper than other own-brands.
Despite having the largest range of ready meal and pizza options, Waitrose is the most expensive for their pasta and curry meals, setting you back £3.75 per ready meal or £5 for their pizza. In comparison at the other end of the scale, Asda will only set you back £1.50 for their vegan ready meals and £1.75 for their vegan pizza of the 18 options you will have to choose from this category.
For cheap dairy alternatives, Asda own brand Unsweetened Soya Drink and Free From Garlic & Herb Soft Cheese Alternative will cost you just over £2 for the two items, whereas in Morrisons you'll be paying over £3 for the same items.
Whatever your reasons for choosing a vegan diet, there are lots of options available to you, no matter your price range.
Methodology
We created a list of the UK's most popular supermarkets based on this list from YouGov.
Taking each supermarket in turn, the total number of own branded vegan meal options were calculated from the online listings. A selection of everyday items was then compared on price to determine which supermarket had the best value range of vegan alternative options.
All prices were correct as of 12th November 2020.