Winter is a time where we start to crave comfort. With the longer nights and cooler weather, you may find yourself reaching for the blanket, thick socks and jumpers, curled up on the sofa with a mug of warming hot chocolate and cookies as you get cosy to watch your favourite show.
You may deviate away from any healthy habits you've formed, whether it's your weekly exercise routine or the foods you eat. It's not uncommon and you're not alone. Remember to not be too hard on yourself if you start to crave unhealthy food or want to stay indoors rather than exercise in the cold.
We've put together our top five tips for maintaining optimum health and wellness throughout winter. From providing your body with the right nutrition to staying active, find out how you can beat the blues and stay healthy this winter.
How to Curb Cravings
It's okay if you crave sugary snacks or unhealthy food during winter – it's completely natural! Treat yourself and enjoy your snacks in moderation. However, if you're struggling to keep your hand out of the biscuit tin, here are a few ways you can help curb those cravings:
Eat fruit – many fruits contain natural sugars and have a delicious sweet taste that will help keep sugar cravings at bay.
Drink more water – it's important to stay hydrated during winter and water is one of the easiest solutions to beat cravings.
Eat more protein – add more protein into your diet during winter to help keep you feeling fuller for longer, reducing the temptation to reach for the chocolate!
Five Tips to Winter Wellness
Discover our top tips to help you through the darker, colder months and to keep your health in check this winter.
1. Get Outside During Daylight
This is one of the most important things you can try to do during winter. Yes, we know it's cold out there and life can be busy, but even getting outside for a 15-minute walk on your lunch break can do you the world of good.
With shorter days and more time spent indoors, our bodies get less exposure to sunlight, which can result in a vitamin D deficiency. This can lead you to feel more fatigued and can affect your mood. Consider taking vitamin D supplements to ensure you're getting enough vitamin D during winter, as well as getting outside as much as you can during daylight hours. It can boost your mood and helps to improve sleep quality.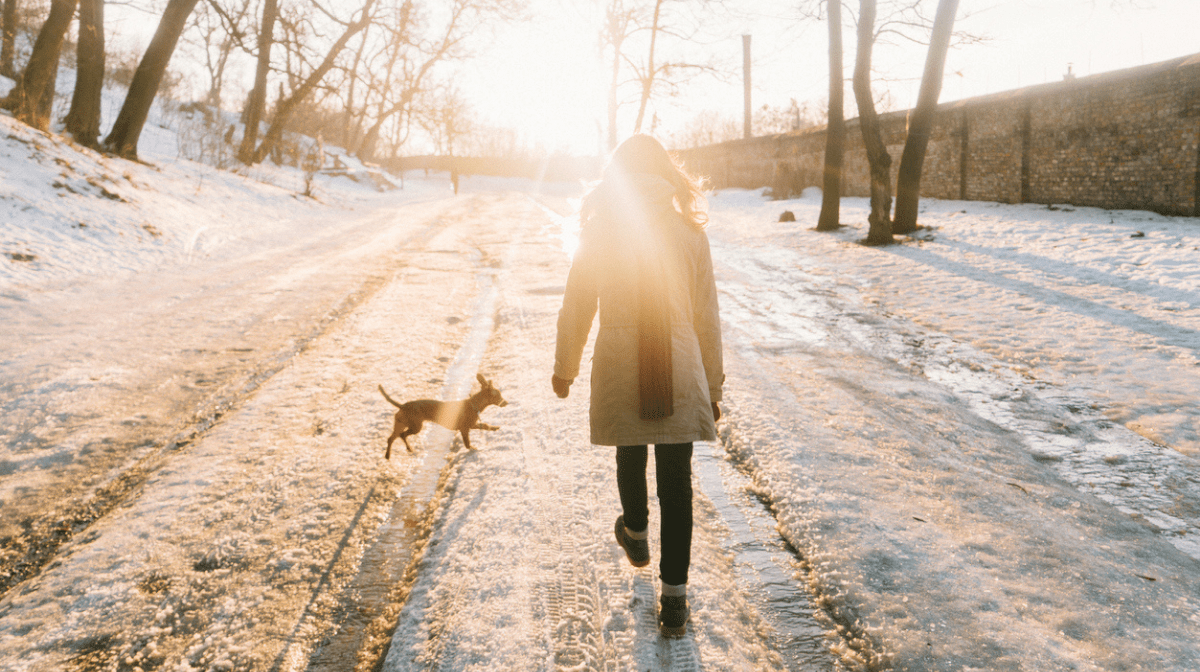 2. Eat to Support Your Immune System
Think about the foods you're eating during winter and make sure your body is getting all the nutrients it needs to stay healthy. As winter is the peak season for colds and flu, make sure you're eating plenty of fresh fruit and seasonal vegetables, such as sweet potato, squash and other root vegetables, to maintain a healthy, balanced diet that could help to boost your immune system.
Oily fish, such as salmon and tuna, are great sources of omega-3 fatty acids, providing your body with essential healthy fats to help support your wellbeing during winter. Try to keep your sugar intake down during winter, as too much could impact your mood and gut health.
If you're looking for a quick and easy way to introduce more superfoods into your diet, try our Raw Organic Green Superfood Powder for a convenient boost of vegetables and nutrients.